I really needed the recap. I binged watched the whole last season in one day. So my memory is not that clear. Last season was honestly a miss match of drama and confusion. Honestly, from the death of Michael the show hasn't had a clear story line, just a bunch of drama and unanswered questions. I forgot all about the young guy Jane dated. Rogelio is having another child with Darci. It's just so unsettling. I will always and forever be team Jane and Michael. So during the finale I really could not pick a girl for Rafael.
The fun silliness of the show is full swing as soon as the show starts. While our usual sexy male narrator is trying to recap us on last season, he get interrupted by a female narrator. Not going to lie the female voice is quite annoying but, I love the banter between the two. She introduces us to Adam Alvero.  He was Jane's first love and the finder of Michael's letter.
Adam and Jane both thought is was meant to be and had a sexy skinny dip on the beach of the Marbella. Only thing is that Jane's mom and Abuela never approved of him. They knew the kind of hold he had on her in the past. ( I can't believe Jane actually did it. I know shes a grown woman now. I just think that her character wouldn't change and that she would want a commitment to be vulnerable around others. Plus I'm like you just met her again and your can't be a gentleman) With the parents not paying attention Mateo runs out to save his mom in the ocean.
Rogelio has just married to Xiomara. The only thing on his mind is how Darci is painting him in the media. Xo is trying to be a supportive wife and make him take the highroad. Only Rogelio just walks right into her trap. In the end Rogelio listens to Xo and mends things with his baby mother. She is last seen going into labor. ( Rogelio never learns. I hope all this drama doesn't lead to another breakup.)
Rafael is kicked out his hotel by his sister. He lied to her last season to set up rose. It worked but then she found out his secret and she now owns the hotel. Meanwhile he has Jane's romantic feeling to consider. Also, he still wants to be with Petra. After Jane steps in where she doesn't belong, and stressed about their money situation, the two realize they are not meant to be. He finally wins Petra back. (Okay I know I will be the only one happy that the two are not together. Maybe its my dedication to Michael or may it's just that the cry jane had when they first broke up, but I never trusted Rafael with her heart. Not saying I trust this new guy. I will get to that soon.)
So we left Petra with a gun to her head by her twin sister. After a tussle, they both land in the ocean. Petra comes up but her sister does not. Once back Petra realizes that Rogelio's sister is behind her attack, and is working to sell the hotel to get rose out. Petra fakes being her sister to get ahead of the plan, until her sister shows back up. ( I'm sorry but shouldn't Louisa be in jail for assisting a mass murder. She is such a pain, every season. Even though I detest Petra, I don't know why I find myself sometimes rooting for her.)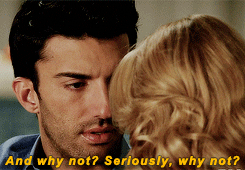 Now lets get to the meat of the story again. Adam and Jane. Jane was confused with how she felt about Rafael. With him not giving her a clear response, she ends up with him in the bathroom. He basically attacks her, and they argue about money. Revelation strikes, curing them of all their unknown feelings. After a talk with Xo and abuela, Jane calls Adam back and they agree to go on another date. ( I am not for this guy. Not only do I not feel this actor, or maybe its just the shows he has been on. I like a gentleman for Jane. I know that no one can replace Michael, but I still feel connected to Jane.  She matured but that doesn't mean she should change her morals. This guy doesn't seem any more mature than the last guy.)
Basically, this episode is just as dramatic as every episode before. I found myself just hoping the entire time that Jane would just get over Rafael. That's just me. I also was not team Rogelio. He needs to get is together. I wonder is Louisa will attack Petra now? It's crazy that Rafael is homeless and still a jerk. I can't wait for the next episode already. Tell me what you think, in the comments. Thanks for reading.