Guarded By R.C. Martin
Jill had sat by and watched as her cousin Corie got her fairy tale. Corie got whisked off into the Hollywood life like Cinderella. Jill was ready for her love story too. She knew that it wouldn't happen like that. She was realistic. In the small town that she lived in, options weren't too great. Jill was looking for a breath of fresh air, and she got that when she went out to visit her cousin. She met the Leo. He was a big guy and intimidating. Which worked for his job. He was a body guard for Corie and her husband.
Jill's problems couldn't scratch the surface of what Leo had going on in his life. He had anger problems that stemmed from childhood. Only his problems seemed to follow him wherever he went. Getting Jill involved in his life wasn't a smart move. Around her he didn't make the safe choices. She deserved everything she could ever want. When he was with her it was easier for him to pursue that. When dangers in his past came creeping close, nothing scared him more than what he could do to her himself.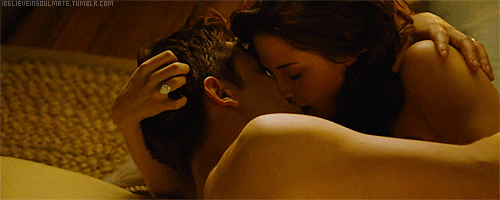 (sorry I couldn't find a gif of Bella Swan after her honeymoon and she was all bruised. This book made me think of that scene because, Edward didn't want to keep touching her. Also I'm probably going to marathon the movies because it just made me miss it lol. )
Review
Going into this book blind I was happy to find it was the story of Leo and Jill. I was awaiting this book after reading the previous two books in the series. After reading the first book R. C. Martin has easily become an auto read author of mine. R. C. Martin is the master of blending love and lust. This one didn't meet my expectations on that subject. The sex kind of took over the story. It seemed to be the communication of the character. True the purpose of the book was to show that both characters had walls up, but it became a tad too much. I also didn't care for soft abuse. I don't want to give too much away but, its in excusable. Other than that I loved seeing some old characters. I like that they were not heavy in this new spin. There is also a bit at the end that lets me know that another sequel is in the works. I gave the book 3.5 / 5 stars. I have high expectations for the next installment. I like a bit of danger and mystery in romance.